Drax
A good example of carbon laundering and possibly negative EROI.
A good coal powered electricity generating station may claim efficiencies of up to 65% but more likely 30%-40%.
Old coal fired power stations were usually around 10% efficient.
Drax is a village in Northern England, it has one of the larger coal fired power stations in the world with a capacity of almost 4GW. https://en.wikipedia.org/wiki/Drax_Power_Station
Built in stages over 3 decades from the 1960's through to the 80's it is Britain's most modern coal power station.
Location was chosen with an eye on proximity of availability fuel coal and possibly petcoke. Within 50 miles there is probably enough coal to run Drax for a millennia! The petcoke was expected to be available from refining North sea oil finds?
Drax can burn 36,000 tonnes of coal per day.
Since 2004 Drax has been using biomass as fuel in increasing quantities. This shift to biomass has nothing to do with the free market economy.
By 2018 https://www.drax.com/technology/5-incredible-numbers-worlds-largest-biomass-port/
Drax was using 20,000 tonnes of wood pellets every day!!
Most of which come from U.S.A
So we have gone from:
Fuel that came out of the ground a dozen or so miles from Drax to trees grown 8000 miles away.
minimal handling (conveyor from mineface to rail to Drax) to

felling in forest
log forwarder/skidder
truck to hogger
barge and truck to pelleting plant
Drying and pelleting, After this point it is only as stupid as 'taking coals to Newcastle'
truck and train to port
ship port to port (across Atlantic)
Ship to storage
rail to storage
Use
Every stage has involved massive investment in machinery, transport and storage.
https://www.drax.com/sustainability/sustainable-biomass-crosses-atlantic-power-nation/
The fun part is that it is all run using diesel extracted with diminishing EROI.
It is quite possible that the equivalent energy that arrives at Drax in the dried biomass has been used in its preparation, transport and storage. When you take into account that this transport and processing energy was from a low eroi source like tar sands with an eroi of 3:1
How much funding does Drax receive per year to make this possible?
Maybe about £1bn per year when you account for funds provided for infrastructure, In 2018 Drax received a total of £ £789.2 million in public money for burning biomass, without which the company would not have been able to stay afloat.
"Four of the plant's six generating units produce power by burning wood pellets, which the UK government counts as renewable, attracting subsidies that added up to 19 per cent of Drax's £4.2bn revenues last year."
New Zealand with Biocoal can do much better.
However ex SolidEnergy's Natures Flame has burnt through massive government investment and support over the years, possibly $100million. http://www.stuff.co.nz/business/industries/7583901/Solid-Energy-wasted-millions
New Zealand's largest wood pellet fuel plant was opened today by the Prime Minister, the Hon John Key. Built by Solid Energy business, Nature's Flame, the $34 million Taupo plant will initially produce up to 40,000 tonnes a year of the clean-burning, low-carbon fuel with a substantial proportion of its output exported. https://www.scoop.co.nz/stories/BU1003/S00158/solid-energy-opens-large-wood-pellet-plant.htm
Nature's Flame wood pellet production benefits from large quantities of geothermal energy. At full capacity the pellet plant will use about 460,000 gigajoules of steam annually. http://www.sharechat.co.nz/article/07a1f536/contact-steam-to-heat-norske-skog-pellet-business-secured.html
460,000GJ of steam energy is equivalent energy to 30,000 tonnes of wood pellets at 15GJ per tonne.
This sounds like green washing and carbon laundering to me.
Just to add insult to injury geothermal is not carbon neutral, most geothermal plants release CO2 from under the ground. Isn't that like digging coal up and burning it?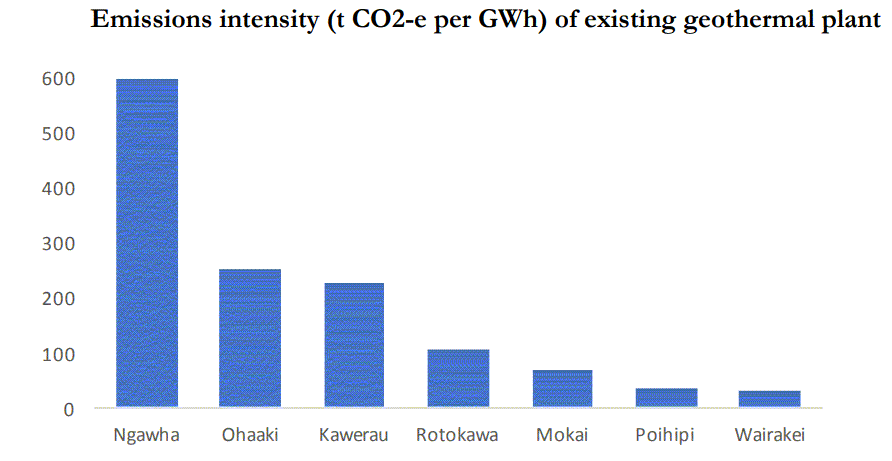 This 460,000GJ of steam energy is equivalent 128GWhr of energy.
Using the 200 tonnes of CO2-e per GWhr this gives 25,600 tonnes of geothermal emissions in the production of these wood pellets.
Who knows how much electricity Nature's Flame uses to make the pellets?
As described by the NZ Herald, the Tasman mill at Kawerau uses roughly 500 GWh of electricity annually, about 230 GWh of which is generated on site."
And do they use Natural gas in the process as well?